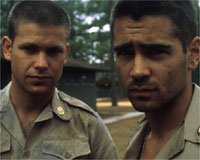 Tigerland
Starring Colin Farrell
Director Joel Schumacher's long-awaited war film casts Colin Farrell as a young man drafted into the army who battles to become more than just another faceless soldier.






Jurassic Park 3
Joe Johnston takes over from Spielberg in the third of the Jurassic Park films. Sam Neill returns as Dr. Alan Grant and is joined by William H Macy and Téa Leoni.



Tomb Raider
The film version of the popular computer game hits UK screens this summer. Starring Angelina Jolie as Lara Croft, the film promises to be an action packed blockbuster.



Series 7
Six people are given the chance to win a huge cash prize in a game show in which five of them will lose their lives.



Evolution
Ivan Reitman directs David Duchovny in a tongue in cheek tale of aliens, rapidly evolving amoeba and world destruction.


The Mummy Returns
Brendan Fraser returns to battle the evils of Egypt with Rachel Weisz at his side. The action is transferred to London when the mummified Imhotep wakes up in the British Museum.



Amores Perros
Mexican director Alejandro González Iñárritu's debut feature splices together three interlocking stories which cut the across the class divides of contemporary Mexico City.



See Spot Run
Perfect for the kids, See Spot Run sees ex-police sniffer dog Spot going into retirement and turning his new owners life upside-down. Stars David Arquette.



Blow
'Blow' tells the true story of George Jung a small businessman who joins forces with a group of drug barons to smuggle a cargo of cocaine into the United States.



All the Pretty Horses
All the pretty horses stars Matt Damon and Henry Thomas as two friends from Texas who travel to Mexico in search of a better life only to find, things aren't as rosy as they expect.



The Dish
Rob Sitch's quirky Australian comedy stars Sam Neill in a tale of a satellite dish in the remote outback which becomes a pivotal part in the first Apollo moon landing.



Goodbye Charlie Bright
Paul Nicholls stars in a humourous and heartwarming story of the friendship between two teenage boys growing up on a South London council estate.



A Knight's Tale
After witnessing his master's murder, a young man (Heath Ledger) assumes his identity to avenge his death.